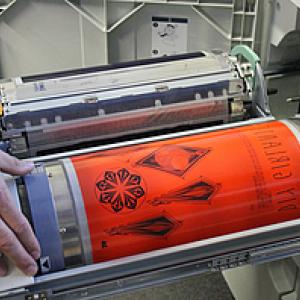 Since the beginning of 2014, graphic design students of HMKW Cologne have had the opportunity to work with a Risograph Printer.
In the lessions "Prepress / Press" and "Layout" by Prof. Dr. Markus Schröppel the implementing analogue graphic design is a task: Instead of using digital templates the designers have to manage to prints their layouts using various print-drums and stencils - one original per color - on the college's own Riso MZ 770 press. Products are e.g.: student magazines, annual reports, posters, bachelor theses, welcome give-aways for first-semester students, illustrations and merchandising objects for the design Späti kiosk or parts of the Hamburg LeadAward-winning media study GIFilter were also produced in this way. In addition to the favorable cost factor, the positive eco-balance of the printing process should be emphasized above all else. This results from the use of recyclable printing forms / artwork and biologically harmless colors based on soya oil.

Not only the Cologne HMKW students, but also students and teachers from the other two HMKW locations Berlin and Frankfurt a. M. have already been able to use the Riso. Prof. Dr. Markus Schröppel explains why, even in times of digital transformation, it is important to be familiar with the analogue technique of rotary screen printing: "The handling of this very classical printing process gives the students a basic understanding of the implementation of print products. This begins with the design of the templates, where they learn to combine a greatly reduced color choice with means of illustration, typography and other design tools. Despite or because of these limited means of design, the aesthetic result is very special. "