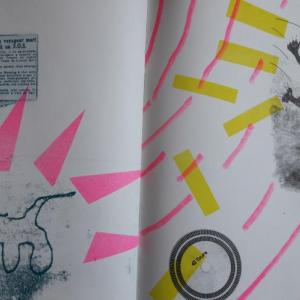 L'Atelier Fluo est une association dédiée à la pratique de la sérigraphie à Grenoble.
C'est un atelier où des gens bricolent leurs projets, ceux des autres et partagent leur(s) passion(s).
Où l'on joue avec la peinture, la lumière, les couleurs, le papier et la chimie.
C'est un endroit où du matériel est mutualisé pour que les gens réalisent eux-mêmes leurs propres travaux.
On y imprime pas mal de choses liées à des luttes sociales et aux contre-cultures, mais pas seulement.
--
L'Atelier fluo is a collective of printmakers and a self-managed voluntary printing workshop.
We make our facilities, prints (Risograph and silkscreen printing presses), shaping and cutting equipments and knowledge available for our members' use.
Members of the workshop may print posters, fliers, books and disc jackets related to social struggles and underground culture. Our association organises open-print workshops on a regular basis, for beginners to discover silkscreen printing. It also prints works on demand.