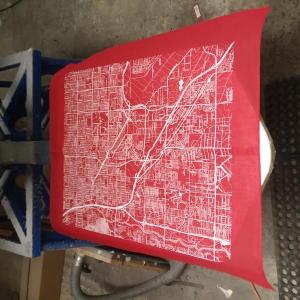 Arizona Riso printing at tanline Printing
WELCOME TO TANLINE PRINTING!
Tanline Printing is located in Tucson Arizona. The unique environment allows artists to come together and produce awesome posters, stickers and other printed materials. You can order some of our stickers, postcards and posters online or contact us for a custom printing job of your own. Our print shop is very unique in a way that most have not seen. We offer a one stop shop for lots of awesome products. We not only can make the jackets for your album but we can do a limited run of phonographs. We originally purchased the record lathes to produce our house band "The Hermanitos" and now we want to cut vinyl for you. We also offer a mail order service. Too busy to mail your stuff out? We will be your distribution center. From storing to packing and shipping, we do it all. Send us an email for more information. Tanline has one of the fastest turnaround times without sacrificing the quality of the product. Everything printed at Tanline is printed by hand on a silkscreen press or on a letterpress. We offer a wide range of color printing options along with quality single color print items. We are also unique in offering our vending machines full of your favorite stickers and postcards. The Vending Machines are located at The Hotel Congress, Che's Lounge and Public Brew house. Email us if you want a vending machine in your establishment.
Machine(s)
No machine(s) listed - add some!